Various high profile delegations from Armed forces of friendly countries are organized who interact with the faculty as well as the student officers. The purpose of such activities is to exchange views on modern tactics and military problem solving technique to seek improvements at both ends. College also arranges foreign visits of faculty in the same regard.
PAKISTAN AUSTRALIA RELATIONS, CHALLENGES, OPPORTUNITIES AND WAY FORWARD – 7 MARCH 2022
His Excellency Mr. Bryce Hutchesson, is an accomplished diplomat of Foreign Service of Australia and Charge de Affairs of Australian High Commission in Pakistan. He visited Command and Staff College and delivered a lecture to students on Pakistan – Australia Relations – Challenges, Opportunities and Way Forward. He opened his talk by admiring the rich history of Command and Staff College and the strong diplomatic ties between Pakistan and Australia while focusing on common heritage and bilateral defence cooperation. He appreciated the contribution and sacrifices made by Pakistan Army in Global War on Terrorism and United Nations Peace Keeping Operations. He explained Australian perspective of strategic environment in the Indo Pacific Region with focus on great power competition, economic connectivity, military modernization, maritime security and non-traditional security threats. Thereafter, he dilated upon the contours of response by the Australian government to these challenges and areas of cooperation between Australia and Pakistan to include counter terrorism, climate change, people to people contacts, food security, economic engagement and sports. He also dwelled upon the purpose, role and function of Quadrilateral Security Dialogue (commonly known as QUAD) and AUKUS and the areas in which member countries are cooperating with each other. Talk was followed by an interactive Questions and Answers session.
PAKISTAN – USA RELATIONS CHALLENGES, OPPORTUNITIES AND WAY FORWARD – 07 DECEMBER 2021
Her Excellency Angela Aggeler is an accomplished diplomat of Senior Foreign Service of US and Charge D'affaires at US Embassy Islamabad. She visited Command and Staff College on 07 December 2021 and spoke to the students on Pakistan – USA Relations, Challenges, Opportunities and Way Forward. She opened her talk by admiring the historical, cultural and social ties between the two countries. During the course of her talk, she mentioned a wide range of areas of cooperation ranging from people to people contacts, military collaboration, trade, investment, health, education and recently in COVID-19 Pandemic. She also admired the role played by Pakistan in GWOT and facilitating US – Taliban talks, US withdrawal from Afghanistan and ongoing Intra Afghan dialogue to bring lasting peace in the region. Her talk was followed by an interactive session in which students asked candid questions, which were comprehensively responded by the Guest Speaker.
Saudi Arabia Delegation Visit
Air Vice Marshal Awad Abdullah A. Al Zahrani,DA of KSA in Pakistan visited Command and Staff College Quetta on 2 Nov 2020.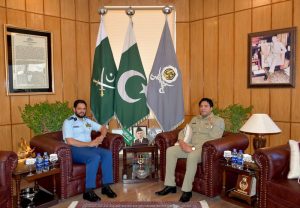 He called on the commandant and discussed training regime and functioning of the college, its evolution and adaptability to the rapidly altering geo strategic environment and changing character of war with its Tactical/ Operational implications.
He interact with student officers from KSA undergoing course, the largest student contingent from friendly Country, and expressed his utmost satisfaction. Taking the opportunity Air vice Marshal Awad Abdullah A. Al Zahrani, DA of KSA along with Commandant Command and Staff College Lieutenant General Nadeem Ahmed Anjum HI(M) conducted rank wearing ceremony of one of newly promoted student officer from KSA. He visited the college campus and was briefed on the academic environment and the training facilities. His visit ended with endorsement of mark in the Visitor's Book.
Russian Delegation Visit
A high profile delegation of Russian Armed Forces from "Military Education Scientific Centre of Ground Forces, Combined Arms, Order of Zhukov, Academy of Armed Forces of the Russian Federation" headed by the Academy's Commandant, Lieutenant General Aleksandr Romanchuck Vladimirovich was warmly received consistent with the rich traditions of Pakistan at Command & Staff College, Quetta. Main highlights of the visit included formal reception and interaction with candid exchange of views from both sides.
Followed by a detailed briefing on the training/functioning modalities and administrative/recreational facilities offered at the college, an orientation visit of the college campus was arranged for the delegation. A research paper on 'Integration of Russia and CARs into CPEC – Challenges and Opportunities' was presented by a panel of students. Afterwards, the head of delegation, Lieutenant General Romanchuck educated the audience on the history, role, organisation and Functioning of Combined Arms Academy, Moscow through a well structured presentation.
The farewell interaction concluded with appreciation by Lieutenant General Romanchuck for the standard of training at Command & Staff College Quetta and the professionalism / confidence of officers of Pakistan Army along with expression of gratitude for the extra-ordinary hospitality extended to him and his delegation. Reciprocating the commonality of interest, importance laid by Pakistan on its bilateral relations with Russia and desire to take it to much higher pedestals was re-emphasized by Lieutenant General Nadeem Ahmed Anjum, Hilal-i-Imtiaz (Military) , Commandant Command & Staff College.